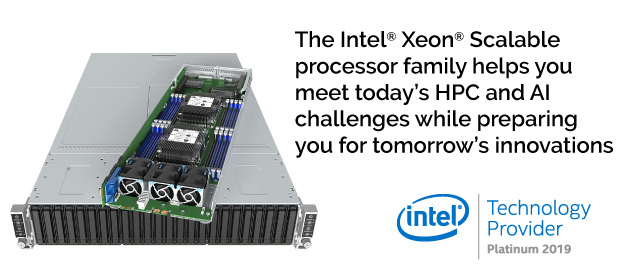 As a Intel® Platinum Premier Provider, our close relationship with Intel allows for access to the latest technologies and support. Aeon Computing provides complete cluster solutions, high-end computing servers/workstations, and data storage that are powered by Intel's latest computing, storage and network/fabric technologies.
Aeon Computing Servers and Workstations Powered by the latest Intel® Xeon® Scalable Processors
Intel® Xeon® Overview
Up to 24-Core Intel® Xeon® Scalable Series Processors
The Intel Xeon Scalable series processor combined with C62x chipset improves data movement and performance well above previous generations of Xeon series-based workstations, HPC systems and other processor architectures.
Specifications

Aeon Computing EclipseCluster™ HPC solutions are built with the latest compute, storage, software tools, and fabric technologies to accelerate any application. Each solution is tailored to your specific application, physical requirements, and budgetary needs. In addition to these dynamics, EclipseCluster systems employ the latest methodologies in deploying, managing, and optimizing a HPC resource.

Aeon Computing produces servers that emphasize power, cooling, density, space, and efficiency, which are all essential components toward attaining your computing needs. The latest in Xeon® processor technology from Intel reinforce these concepts and takes high performance computing to the next level.
The Eclipse™ line of systems provide breakthrough application performance and new levels of power efficiency to the data center. The Eclipse™ line of servers offer best in class performance and energy efficiency.
Powered by Intel® Xeon® Scalable Series Processors.