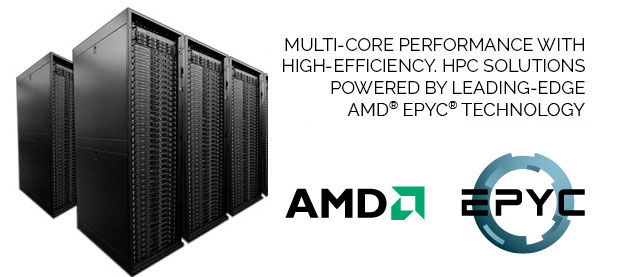 Aeon Computing is an AMD Solutions Provider. Our goal is to provide a full range of AMD processor-based computing solutions, including AMD EPYC™ and Opteron™ processor-based EclipseA2, EclipseA4 servers and workstations.
AMD MULTICORE OVERVIEW
Aeon Computing Servers and Workstations Powered by AMD EPYC™ Processors
Overview
AMD EPYC™ – Powering The Industry's First No-Compromise 1-Socket Servers
IT organizations across the globe face budget and space constraints that are made worse by underutilized servers. Today those same datacenters lack the choice of a high-performance, 1-socket server designed to increase utilization and lower acquisition costs. AMD EPYC delivers on the promise of helping lower TCO and enables organizations to right-size for key datacenter workloads without feature compromise.
AMD EPYC provides up to 32 cores, 8 memory channels and 128 PCIe® 3.0 lanes per CPU unlocking capabilities and performance previously available only in 2-socket architectures.
Features & Benefits
Specifications

Aeon Computing EclipseCluster™ HPC solutions are built with the latest compute, storage, software tools, and fabric technologies to accelerate any application. Each solution is tailored to your specific application, physical requirements, and budgetary needs. In addition to these dynamics, EclipseCluster systems employ the latest methodologies in deploying, managing, and optimizing a HPC resource.

Aeon Computing produces servers that emphasize power, cooling, density, space, and efficiency, which are all essential components toward attaining your computing needs. The latest in processor technology from AMD reinforce these concepts and takes high performance computing to the next level.
All powered using AMD's latest generation of processors, with up to 16 cores per socket using the 6300 Series "Abu Dhabi" or the 6200 series "Interlagos" processors
AMD BASED SERVERS
The EclipseA™ is ideal for a wide range of intense computing applications such as HPC, databases, rendering, and virtualization to name just a few.
The EclipseA4™ is a 4-way multi-core SMP server platform that can accelerate multiple applications for a wide range of budgets. With up to 64 AMD Opteron™ cores.
Professional grade,leading edge GPGPU research workstations combining multiple GPUs with the latest in processor, memory and storage technologies.
Workstations powered by the latest AMD Technology
The AMD Powered EclipseGP Workstation is powered by AMD's latest 6300 and 6200 series processors in a 2 or 4 socket configuration giving you up to 64 cores and up to *1TB of memory, having enough computing power will be the least of your worries. Fuse that with the newest graphics or GPGPU technology ATI / NVIDIA has to offer, and you've got a powerful machine built to handle your visually-intense applications.

*1TB memory configuration only allows up to 2 GPGPU cards due to board specifications